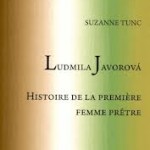 Ce serait presque un roman d'espionnage que l'histoire, entre caches, fuites, traques, dénonciations, menaces, condamnations et prison – dont un séjour en forteresse de 14 ans ! – de cet évêque infatigable qui brave et déjoue non seulement le régime communiste mais aussi les convenances catholiques pour oser ordonner clandestinement des prêtres malgré les dangers de la répression en Tchécoslovaquie, de 1945 à 1989.  Parmi ces prêtres, qu'ils estiment indispensables à l'Eglise catholique,  interdite ou asservie par le joug de l'état – et dont il fait prévenir le Vatican  par de hasardeux canaux secrets-  on trouve  des jeunes, des hommes mariés, on ne sait même pas combien, qu'il forme lui-même avec talent et exigence, en fondant  un séminaire clandestin, et puis une femme, Ludmila Jarovorova, qu'il avait suivie depuis l'enfance dans une famille amie.Le  récit de la vie de Ludmila, rendu ici par Suzanne Tunc d'après un premier ouvrage jamais traduit en français
[1]
met en exergue, dans un temps exceptionnel, une femme de don et de force exceptionnels. Mais modeste. Bien loin d'avoir
revendiqué
une ordination comme désormais des femmes font savoir haut et fort qu'elles y aspirent dans des communautés qui les soutiennent.
Il en va tout autrement dans cette Eglise tchèque conservatrice où il n'est en priorité guère question de critique mais bien plus d'aider à survivre la catholicité,  en héritage du  modèle ecclésial classique qu'on est loin d'imaginer sans les ministères propres aux prêtres consacrés selon les normes en vigueur et seuls aptes à l'Eucharistie,  aux sacrements –et notamment celui de pénitence et réconciliation. En prison, le prêtre Félix Maria Davidek, scientifique, médecin, théologien, poète, a consolé, enseigné, absout et a porté en cachette  les derniers sacrements à de nombreux prisonniers. Mais, en côtoyant la prison des femmes où de nombreuses religieuses purgeaient leur courageux refus  du régime athée, il s'est ému de leur détresse, formant le vœu ardent de voir des femmes prêtres.
Et c'est lui, le prêtre Davidek, sorti de prison mais étroitement surveillé, qui  choisit Ludmila, qui la forme avec exigence et très vite la délègue en l'imposant, malgré quelques  étonnements,  d'abord comme sa secrétaire puis très vite comme chargée de recrutement pour le séminaire clandestin et enfin comme directrice de la communauté que tous deux fondent et où, de nuit, on se réunit pour prier, enseigner, se former, toujours en des lieux différents offrant  plusieurs issues, et sans aucune trace écrite qui puisse trahir en cas d'arrestation… Charisme exceptionnel, intelligence, conviction  missionnaire,  dévouement, courage sans faille, sûreté de jugement, il la nomme « Vicaire Générale ».
Davidek est étonnant dans sa capacité prophétique : faire survivre la foi et la religion avec le recours habituel de la vie pastorale et sacramentelle, là est l'urgence. Mais il vise plus loin que l'organisation cléricale traditionnelle, il «  estime que la société a absolument besoin de femmes prêtres » et il a suffisamment étudié pour savoir  que leur exclusion « n'a aucun fondement dogmatique ni scripturaire ». A partir de cette conviction et vu l'urgence, il prend ses risques. Il faut lire le récit du Concile du peuple de Dieu » qu'il organise en grand secret, toujours avec l'aide ardente de Ludmila, les 25-26 décembre 1970 ! Prêtres et évêques  ouverts y sont conviés, une soixantaine viendra, qui doivent jurer sur les Ecritures qu'ils s'engagent à tenir le secret,  acceptent à l'avance la liste des participants et le programme des discussions. Programme exemplaire dans ses objectifs essentiels et sa concision, il n'a pas pris une ride aujourd'hui…Les participants l'ont accepté sachant  qu'ils envisageraient  l'ordination des femmes dans un cadre canonique à exploiter.
Mais à partir de là le processus va s'enrayer : peurs, cabales, reniements…trois des évêques de leur communauté deviennent opposants, arrivent au Concile pour en bloquer l'ouverture et y présentent un mémorandum où l'on retrouve tout le genre d'arguments que la hiérarchie romaine avance  aujourd'hui contre l'ordination des femmes. Davidek y répond avec une remarquable profondeur cependant que sa déception et sa crainte pour le futur se font grandes et sa décision alors imminente : dès le soir, il demande à Ludmila  de se tenir prête. Elle ?  Elle n'a pas pensé à l'ordination pour elle-même. Lui, la juge  son affaire de conscience à lui : l'ordination des femmes est urgente, il  faut la rendre présente pour qu'elle existe… Après quelques heures, Ludmila ira tout simplement lui dire : j'accepte et, dès  la nuit du 28 décembre 1970, en présence de son frère Léo comme témoin, elle est ordonnée par l'évêque  Davidek pour l'Eglise catholique universelle, dit sa première messe. Mais elle en gardera le secret absolu même devant ses parents et ses proches et plus encore devant les évêques opposants qui viennent l'interroger. Elle a 38 ans, fera  preuve encore d'un courage surhumain pour accompagner Davidek mourant, l'extraire mort du corbillard qui l'emporte, revêtir son cadavre de la chasuble d'évêque qu'il n'a jamais pu porter et organiser son enterrement dans une église comble.
La libération de la Tchécoslovaquie a des conséquences pour l'Eglise officielle ainsi que pour celle, clandestine, qui a connu les ordinations que le Vatican n'acceptera pas autrement qu'ayant été  sous condition. Une cinquantaine de prêtres célibataires se prête donc à une nouvelle ordination, sous condition elle aussi,  tandis que les prêtres mariés sont priés de rejoindre un département de l'Eglise catholique de rite grec qui les accepte.
Ludmila n'a pas attendu pour réunir et envoyer à Rome toutes les informations possibles sur leur communauté clandestine mais peu à peu, elle est obligée de comprendre que même au sein de celle-ci, et plus encore à Rome, personne ne veut plus reconnaître son autorité de « Vicaire Générale » et encore moins se porter garant de  son ordination. Elle fuit les journalistes, pour finalement se trouver piégée à son insu. Parait  alors un grand reportage avec sa photo et du monde entier on vient la harceler, le plus dur étant qu'elle doit justifier son silence passé auprès de sa famille et qu'elle subit réprobations et mises à l'écart dans sa propre paroisse ainsi que dans sa communauté bientôt éclatée par les évènements. Après la publication d'un article dans le National Catholic Reporter, en 1996, elle répondra finalement, pour deux semaines épuisantes, à l'invitation des femmes américaines de Women's Ordination Conference (WOC). Elle vient, dit-elle, mue par le désir de rectifier des choses inexactes à son propos,  fait preuve d'une grande sagesse et modération. Non, elle n'en veut pas à l'Eglise dont elle reconnait avant tout les dons et elle appelle à ce qu'on travaille la question dont elle est devenue malgré elle un symbole.
Dans un dernier chapitre, Suzanne Tunc, appuie ce souhait par un exposé théologique qu'elle a développé déjà par ailleurs avec une grande compétence et finesse. Ainsi l' ouvrage porte-t-il au jour, dans un style clair, sobre et élégant, un pan d'histoire civile et ecclésiale trop ignoré ; on peut à titres divers  y chercher des pistes d'enracinement pastoral et de réflexion pour des questions débattues- et même vécues- aujourd'hui dans une urgence qui rappelle celle qu'analysait il y a 40 ans le précurseur Davidek.
Suzanne TUNC, Ludmila Jarovorova. Histoire de la première femme prêtre, éd. Temps Présent, 2012, 151p.
Recension par Marie-Thérèse van Lunen Chenu (FHEDLES – Genre en Christianisme)
---
[1] Miriam Therese WINTER, Out of the Depths, The Story of Ludmila Javorova Ordained Roman Catholic Priest, The Crossroad Publishing Company, 2001.